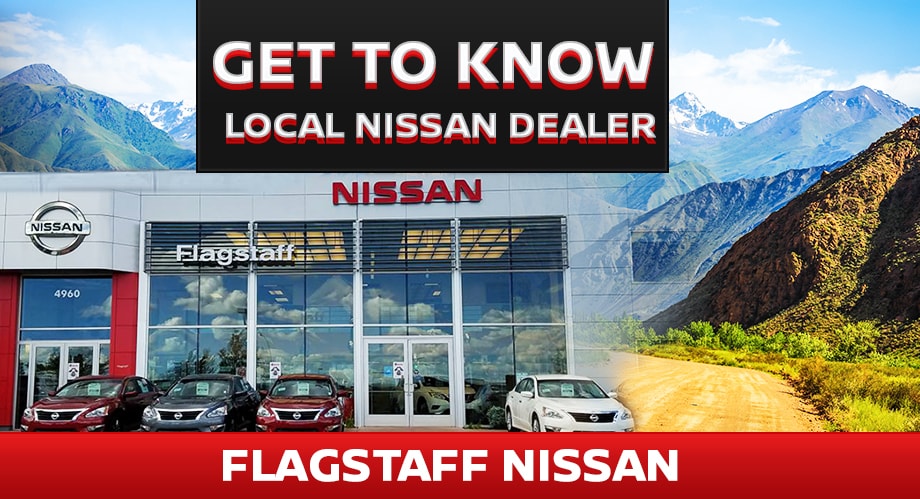 Get To Know Your Local Nissan Dealer In Flagstaff, Arizona!
Welcome to Flagstaff Nissan! We're the go-to new and used car dealership for drivers in Sedona, Winslow, Cottonwood, AZ and Flagstaff, Arizona!
At Flagstaff Nissan, we are dedicated to delivering a positive experience to all our customers. That's why we employ a team of highly qualified professionals who will give you the customer service you deserve.
Plus, we keep our comprehensive inventory fully stocked at all times! Whether you're looking for a new SUV like the Nissan Rogue and the Nissan Pathfinder, or a new sedan like the Altima, Versa and Sentra, we've got something for you.
We can even help you secure the loan you need to finance your new Nissan! Whether you have good credit, bad credit or no credit at all, the experts in our finance department will work with you and the banks to put together a monthly rate that you can afford.

Visit Flagstaff Nissan Today!
Whether you're in the market for a new Nissan, some auto loan expertise, or a quality Nissan service center, Flagstaff Nissan is here for you.
Check out our extensive inventory online, or schedule an appointment to visit us today! We serve drivers in Flagstaff, Sedona, Winslow and Cottonwood, Arizona! Contact us now to schedule a test drive, then get to Flagstaff Nissan today!
Flagstaff Nissan's Vision & Values
To be so effective that we are able to be helpful to others.
At Flagstaff Subaru, we hold the following fundamental values. These are the values that contribute to our success as a business and the wellbeing of our employees.
Individual Responsibility and Accountability - As a means of demonstrating our enthusiasm and sense of caring to our customers, we will be individually responsible and accountable for our internal and external customers, all products and services, our own performance and the quality of our products.
Unconditional Dedication to Excellence - There is no place for mediocrity or half-hearted efforts at Flagstaff Subaru. We accept personal responsibility, accountability and authority for overcoming obstacles and being our very best. We actively choose to excel in every aspect of our personal and professional lives.
Cooperation, Communication and Working Together - Working together at all times in close mutual support of one another is a fundamental tenet of Flagstaff Subaru. We value open communication and encourage new ideas, realizing that cooperative teamwork produces a better work environment and enthusiastic customer.
The Worth of Our People - Our people are our greatest asset and we feel that the demonstration of respect for the uniqueness of every individual is important. We believe that such an attitude will build a team of confident, creative members who possess a high degree of initiative, self-respect and self-discipline.
Ongoing Improvement - We choose not to accept the status quo. We believe that there is always room for improvement, and we understand the importance of ongoing education in any form. We are driven to provide opportunities for personal, professional and organized growth and innovation for our people and our company.
Honest and Integrity - We believe in being honest with oneself and others; that all decisions are to be made with integrity. Leadership is about setting good examples for others to follow, expecting as much out of yourself as you do others and living with integrity.